Mona Lisa Sapperstein is the best character in Parks and Rec
So is Jean Ralfio, they're like 1 & 2.
Yes, the blonde was in the main character, and Ben Wyatt is a good complement, but these two are unforgiving by nature and make you go "oh hey!" when they appear. There moments are funny, memorable, and leaving you wanting more. Ok, maybe not that much more because hearing, "Money, Please!" can get old after awhile, but still, they're fun.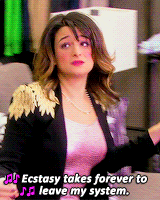 The run of episodes where Tom dated Mona Lisa were kind of annoying, and her constant need for drugs really turned me off. Come to think of it, I hate Mona Lisa, like she's terrible. Not really, cause she's funny, but you know, also terrible.
If you're thinking, what am I reading, I'll tell you. It's a really shitty opinion from a really shitty writer. You knew this when you came to this site, so don't be like, "dude this sucks" because I know.
Anyway, Jean Ralphio is the better of the twins, and his constant need for drugs and alcohol is hilarious. No it isn't because I'm sexist or anything, but the bulk of Mona Lisa's character appears in a few condensed episodes where Jean Ralphio's character is spread out throughout the entire series.
On a separate note, if you haven't seen Obvious Child, watch it. It's a great movie. More on that later.